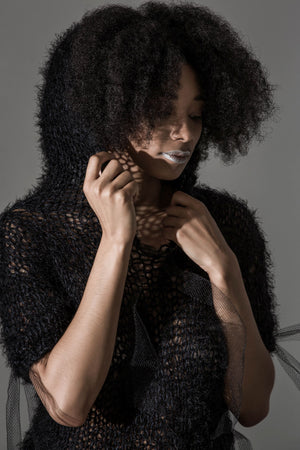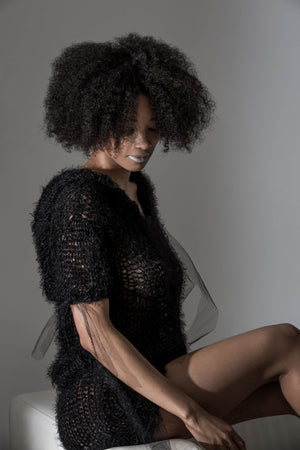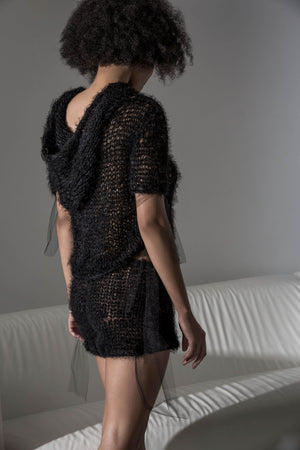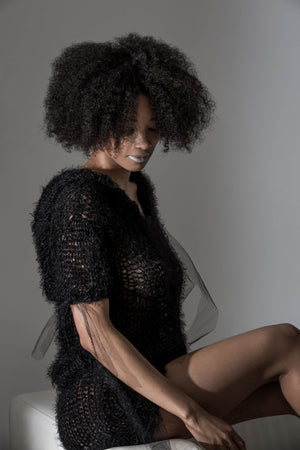 GRACE HOODED TEE
Wrap yoursef in the softest tee you'll ever find. The Grace Hooded tee is fuzzy, shiny, comfy and the wide mesh ribbon definitely adds that little "je ne sais quoi". The ribbons are also functional, allowing you to tighten the hood, the sleeves and the sides of your tee.
Silk, wool, nylon, mesh ribbon
Black
Every item is made to order by hand in Montreal. Please allow 2-6 before the shipment of your item.
Worn with the Grace Shorts
Model is wearing a size 4. Please refer to the chart below to pick your size. Contact us if you need more information
| | | | | | | | | |
| --- | --- | --- | --- | --- | --- | --- | --- | --- |
| SIZING | 0 | 2 | 4 | 6 | 8 | 10 | 12 | 14 |
| BUST | 30-31 | 32-33 | 34-35 | 36-37 | 38-39 | 40-41 | 42-43 | 44-45 |
| WAIST | 22-23 | 24-25 | 26-27 | 28-29 | 30-31 | 32-33 | 34-35 | 36-37 |
| HIPS | 31-32 | 33-34 | 35-36 | 37-38 | 39-40 | 41-42 | 43-44 | 45-46 |