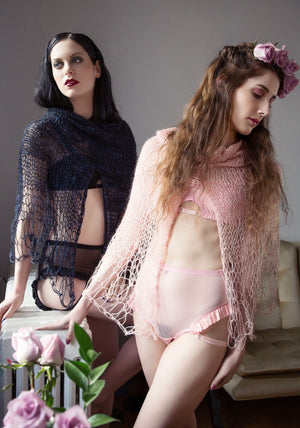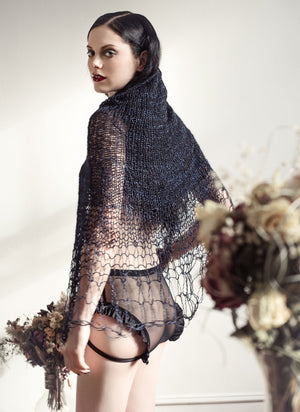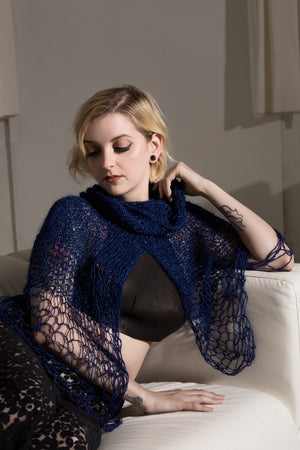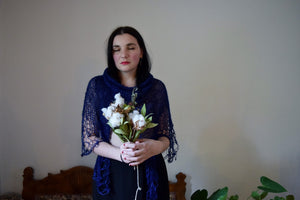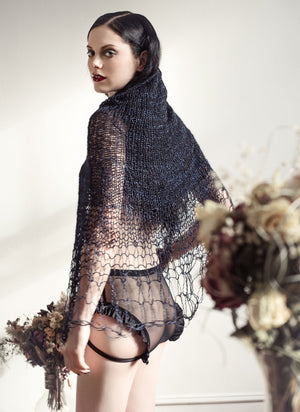 GEORGIA CAPELET
The Georgia capelet has a large cowl that can be transformed into a hood.   The knit blend was hand dyed in Canada so no capelet will have the exact same color variation.  The plush knit has a sheen and a downy feeling to it. Offered in polar sea (blue), raven (navy) and rose.
67% silk, 23% kid mohair, 10% nylon.
Hand wash cold and lay flat to dry. (Due to the delicate nature of the Georgia Capelet, we recommend washing it as infrequently as possible.)
All our pieces are handmade in Montreal. Please allow 2-6 weeks for the confection of your order.
 Please refer to the chart below to pick your size. Contact us if you need more information
| | | | | | | | | |
| --- | --- | --- | --- | --- | --- | --- | --- | --- |
| SIZING | 0 | 2 | 4 | 6 | 8 | 10 | 12 | 14 |
| BUST | 30-31 | 32-33 | 34-35 | 36-37 | 38-39 | 40-41 | 42-43 | 44-45 |
| WAIST | 22-23 | 24-25 | 26-27 | 28-29 | 30-31 | 32-33 | 34-35 | 36-37 |
| HIPS | 31-32 | 33-34 | 35-36 | 37-38 | 39-40 | 41-42 | 43-44 | 45-46 |